This Microsoft Certification Program will get you certified in Excel, PowerPoint, Word, and Access. The package includes seven group classes, six hours of private training, and four Microsoft certification exams. Each group class and exam comes with a free retake, and you'll also receive the MOS study guides.
Registration: Check out with "Flexible Scheduling." Then call or email us to schedule your group classes, private training, and exam dates. After the exam, they will let you know if you passed or failed. If you pass, you will have a digital certification certificate available to you immediately. They will also send you a physical certificate in the mail, which takes about 2-4 weeks to receive.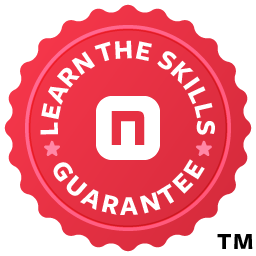 Learn the Skills Guarantee™
Hands-on, personalized training

Learn with real-world projects

Cutting edge curriculum

Step-by-step instruction to boost retention

Learn from industry experts

Gain industry knowledge from professionals

Free retake

Retake the course for free within one year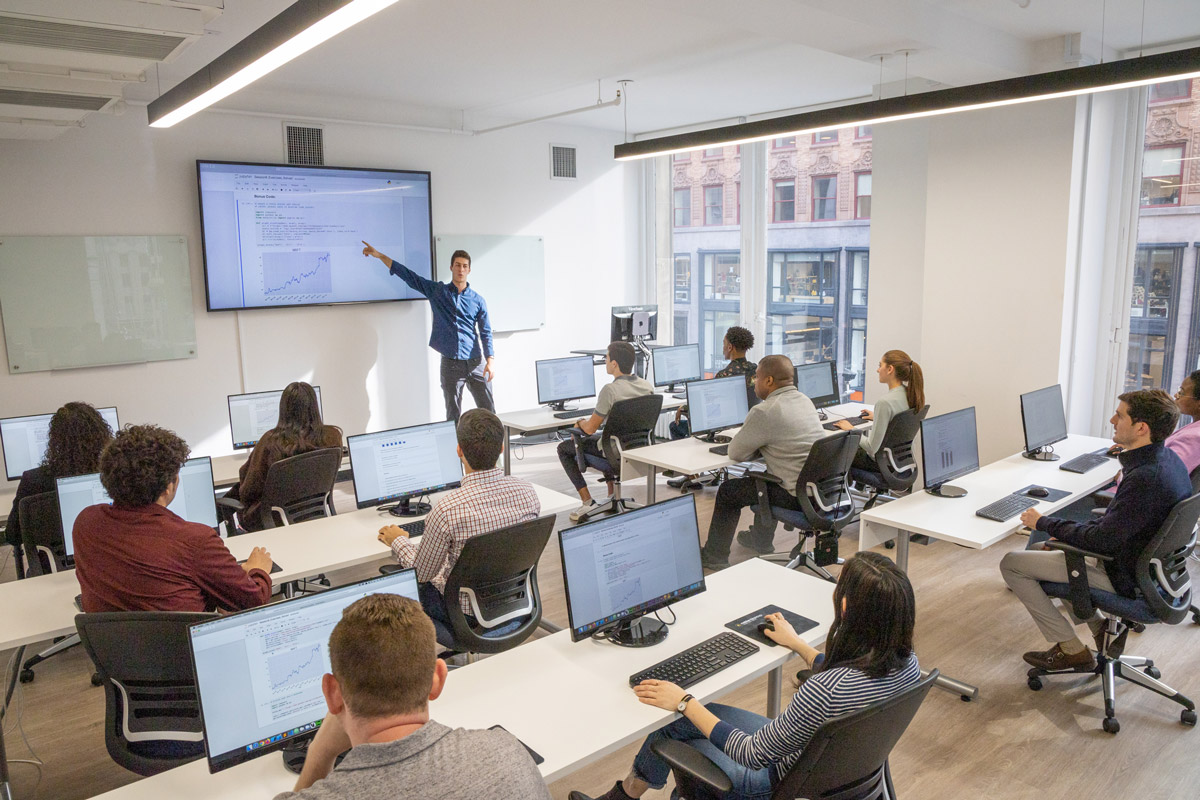 The Career Centers instructors are highly skilled communicators who really know their craft. They are wonderful about explaining and re-explaining when necessary and I never felt rushed or foolish for asking a question.
—Diane Speros
Earn a Certificate of Completion
Upon completion of this course, you'll receive an official certificate testifying to your mastery of the curriculum. We'll send you a link where you can download your certificate, share it online with your friends, post it to your professional network on LinkedIn, and view all your earned certificates. Congratulations on your achievement!
Shareable on

Courses in this Package
This is the recommended order, but some courses may be taken in a different order.
Unit 1
7 Hours

Advance your career with training in Microsoft Word's most advanced functions and features. Automate useful tools like mail merge. Record tasks and write macros to save time. Create custom document styles and templates to improve productivity within your entire team. By the end of this course, you'll master advanced techniques that expedite your workflow. If you use Microsoft Word daily, this course provides essential training in everything you need to know.

Unit 2
7 Hours

Master Microsoft Word's essential shortcuts and techniques in one day. Prepare and send mass emails, letters, and labels with one click. Learn everyday functions used in firms throughout New York City. Eliminate formatting blunders with bullets and page numbers. By the end of this class, you'll be able to apply shortcuts that save hours on daily tasks and optimize your time in Microsoft Word. 

Unit 3
7 Hours

Microsoft Access Level II

Dive deeper into Microsoft Access 2016 with lessons on data validation, table structure improvement, and advanced reporting techniques. In this course, you'll learn more about relational databases by building one of your own, as well as tips and tricks to increase your efficiency.


Unit 4
7 Hours

This Microsoft Access beginner course includes an overview of the Microsoft Access 2016 user interface and an introduction to creating data tables. By the end of Microsoft Access Level I, you'll know how to work with data in Microsoft Access and create basic forms.


Unit 5
7 Hours

Microsoft PowerPoint Level II

Master PowerPoint's advanced features from slide masters to custom shows in this seven-hour PowerPoint course. By the end of this course, you'll be able to create reusable slides, develop custom playlists of the same slideshow for unique audiences, and record presentations to deliver at a later time.


Unit 6
7 Hours

Microsoft PowerPoint Level I

Get comfortable with PowerPoint essentials, from formatting text and visuals to delivering a presentation. By the end of this course, you'll know everything you need to customize the PowerPoint interface to suit your needs, create a text presentation with graphics, and present your slides to an audience.

Unit 7
7 Hours

Become an expert Excel user with this Advanced Excel course. Learn powerful functions like INDEX-MATCH, work with advanced Pivot Table functions, and start recording macros to automate workflows. Prepare yourself for any Excel challenge with this advanced Excel course.

Unit 8
7 Hours

Intermediate Microsoft Excel

The intermediate Excel class focuses on more advanced functions (including VLOOKUP, COUNTIFS and SUMIFs), Sort & Filter, and Pivot Tables. You'll also learn crucial text-related features like splitting and joining text, removing duplicates, and data validation. Embedded in the course are pivotal time-saving tricks like Paste Special, keyboard shortcuts, and navigation techniques.

Unit 9
7 Hours

Get going with the basics of Excel and start working on projects in Excel. Get practice with calculations and formulas, charts and tables, worksheet and workbook formatting, and basic hotkeys to accelerate your workflow. 
6 hours of private prep training
4 Exams with Free Retakes (Excel Expert Exam, Word Expert Exam, PowerPoint Specialist Exam, Access Specialist Exam)
Proctoring for all exams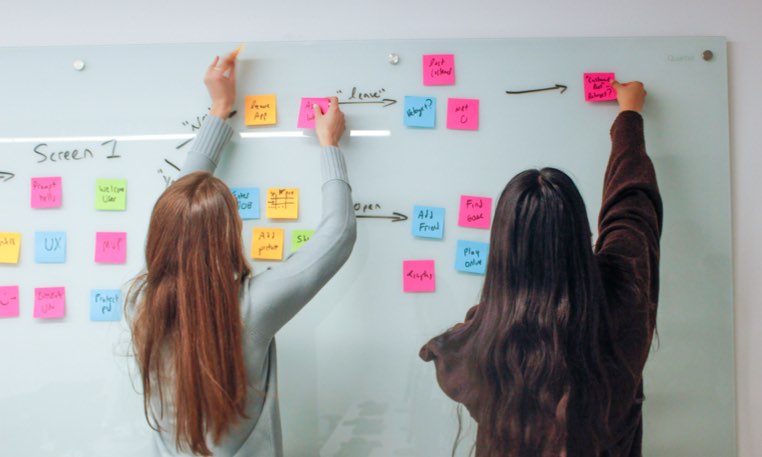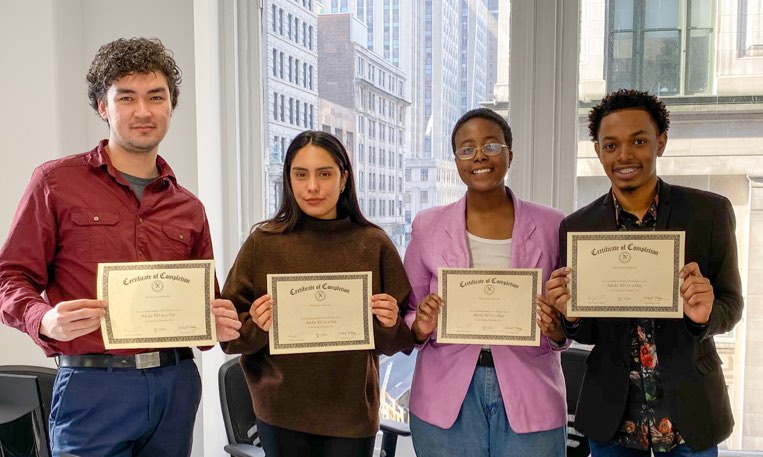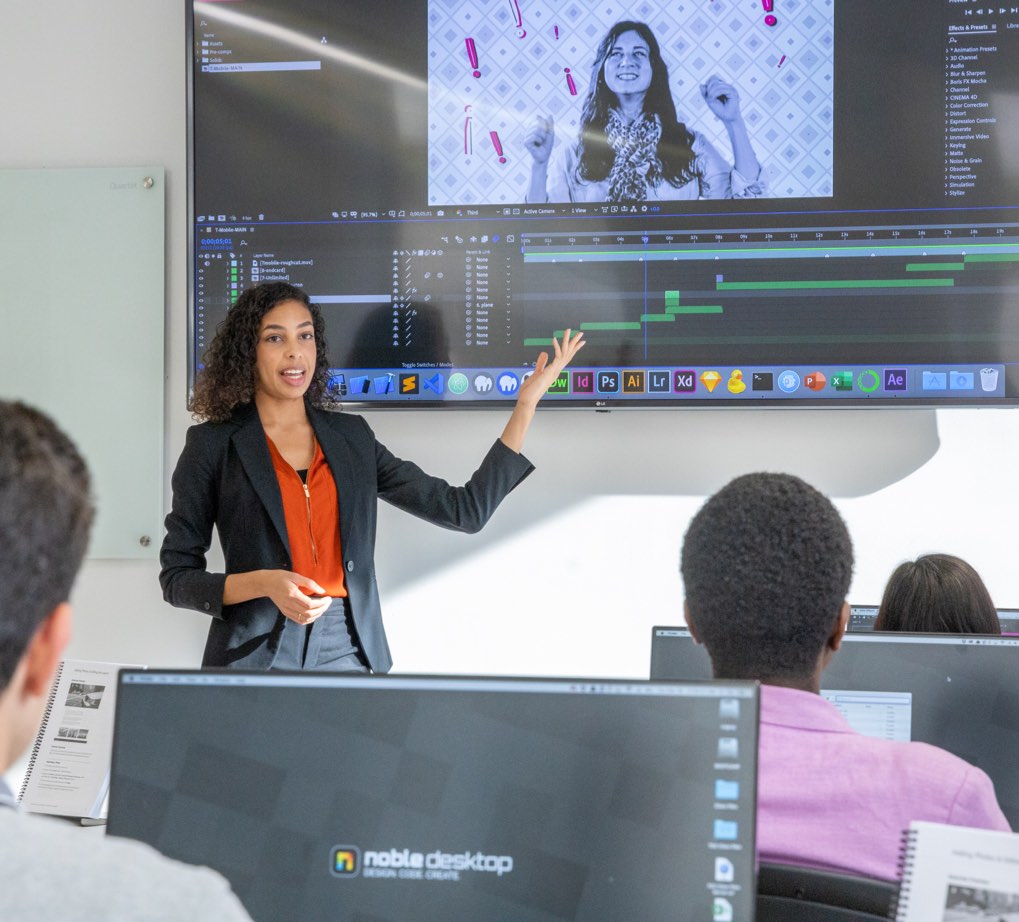 Schedule & Enrollment: Microsoft Master Certification Program with Access
Free retake
Setup assistance
Expert instructors
Small classes
Not currently scheduled.
Email nyc@careercenters.com to request this course, or see related courses with upcoming availability
Tuition
As one of our smaller courses, tuition for this course is due in full before the start date.
Full Tuition
$2,699
Due before the class starts
What's Included
73 hours of hands-on instruction
Live, project-based training from experts
Retake for free within 1 year
Verified digital certificate of completion
What's included with my tuition?

A hands-on learning experience working on projects and exercises, which is proven to boost comprehension, retention, and engagement
Expert instructors who are industry professionals and experienced educators that are driven to help you succeed
Top-notch curricula that have been tried and tested over many cohorts and are consistently improved for an optimal learning experience
Supplemental materials to assist both during and after the course - please refer to specific course pages to see what supplemental materials are offered
A 1-year free retake policy which allows students to retake any part of the course or program for free to refresh the materials and gain additional practice
A certificate of completion to verify your accomplishment

Are there any additional fees or expenses?

There are no extra fees or taxes for our courses. The price you see on this page is the maximum you'll pay us.

However, if you plan to take the course live online, you may need to obtain required software. We'll help you get set up with a free trial of paid software prior to the class. Most of our coding classes utilize freely-available open-source software. For most of our design and motion graphics courses, we will help you get set up with a free trial of Adobe Creative Cloud. If you attend the course in-person, we will have a computer already set up for you with all of the required software for no additional cost.

Do you offer any discounts for this course?

Discounts

This program is a discounted package of classes that is 15–25% off the individual class prices.
This Course is Available in NYC or Live Online
On Campus in NYC
185 Madison Avenue, NYC
Get face-to-face interaction with an instructor and other students when you learn at our NYC campus. Courses are hands-on with a computer and software provided.
Live, interactive class
Experienced instructor in the room with you
Computer and software provided
Free retake within one year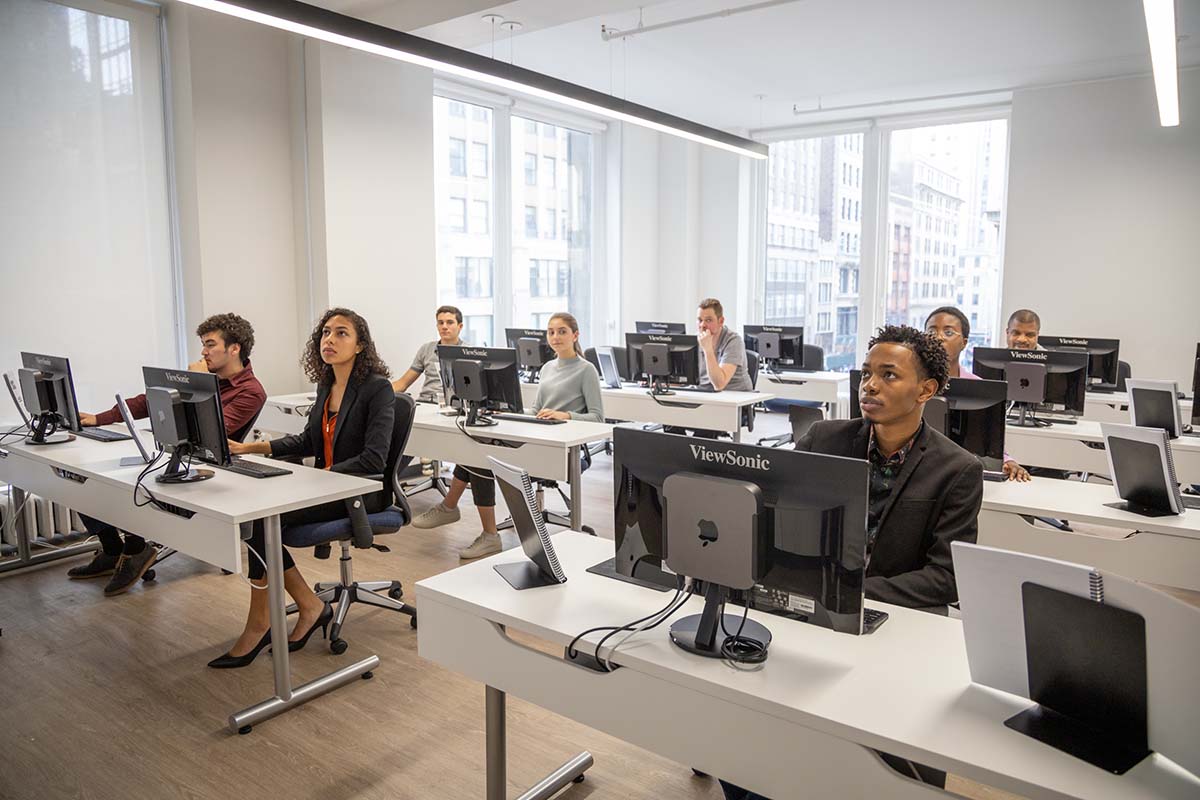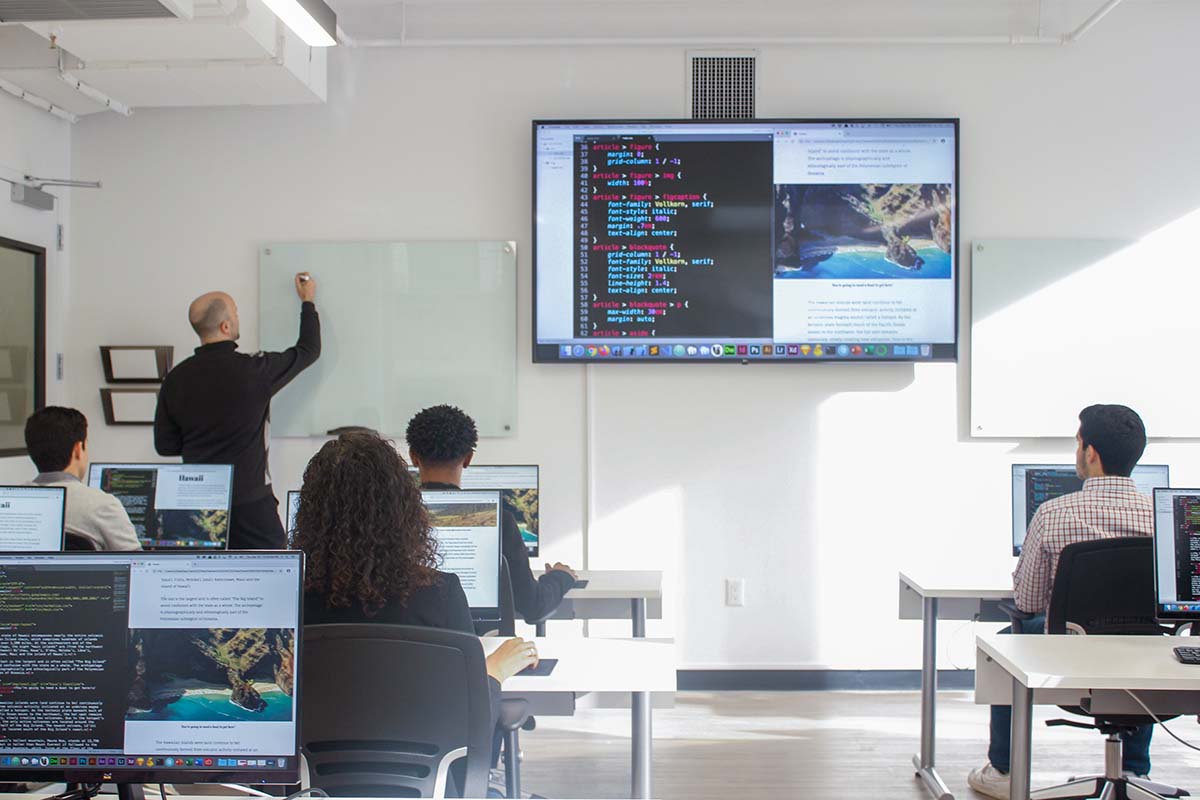 Live Online
Remote, from anywhere
Get the same interactivity and access to the instructor as in-person students. There are no extra fees and we'll work with you to ensure your remote setup is perfect.
Live, interactive class
Experienced instructor teaching over Zoom
Remote setup assistance provided
Free retake within one year
Testimonials for Live Online Training
"Overall experience on Zoom was maybe even better than in IRL classroom because the instruction takes place right on your own screen, with less distraction. Great overall experience."
"Given the fact that we had to do this entire class remotely due to Covid-19, I didn't have very high expectations it would run so smoothly. However, I don't think it could've gone any better. Not only do I feel very comfortable with the program now, but I'm actually excited to use it!"
"This was the first online class I've taken with ND and it was a great experience. Looking forward to the other classes I've signed up for!"
Frequently Asked Questions
Does this course require any prior knowledge or experience?

Students must be comfortable using a computer. No other prior knowledge is required.

Do you offer payment plans or student financing for this course?

This course does not qualify for payments plans or student financing. See our Payment Plan FAQ to find related programs that qualify.

Can I take this course online (remote learning)?

You may attend this training virtually (online) at the scheduled time the course is offered (New York, Eastern Time).

How does attending "live online" work?

Students can attend this training remotely through screen sharing software (we use Zoom).
Participants can hear the instruction, ask questions, and even share their screen with the instructor.
For audio you can use your computer's microphone/speakers or call a phone number that we'll provide.
Classes are activity-based and taught by a live instructor, so we strongly encourage students who are local to the area to attend in person!
You will need your own computer and copy of any required software. If you don't have the software, you can usually do a free trial or purchase your own license. If you need assistance, contact us at nyc@careercenters.com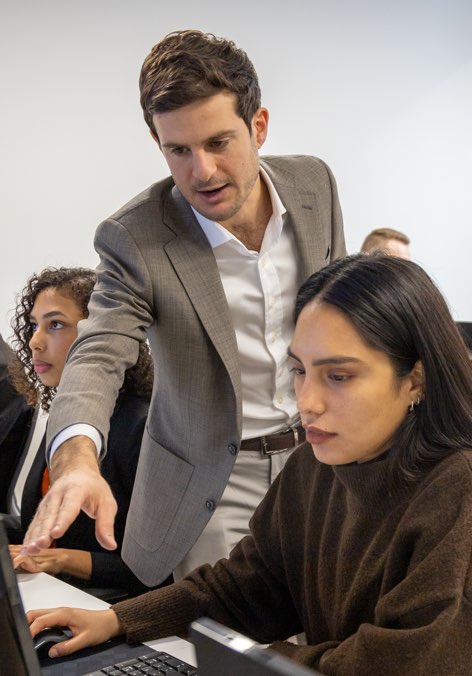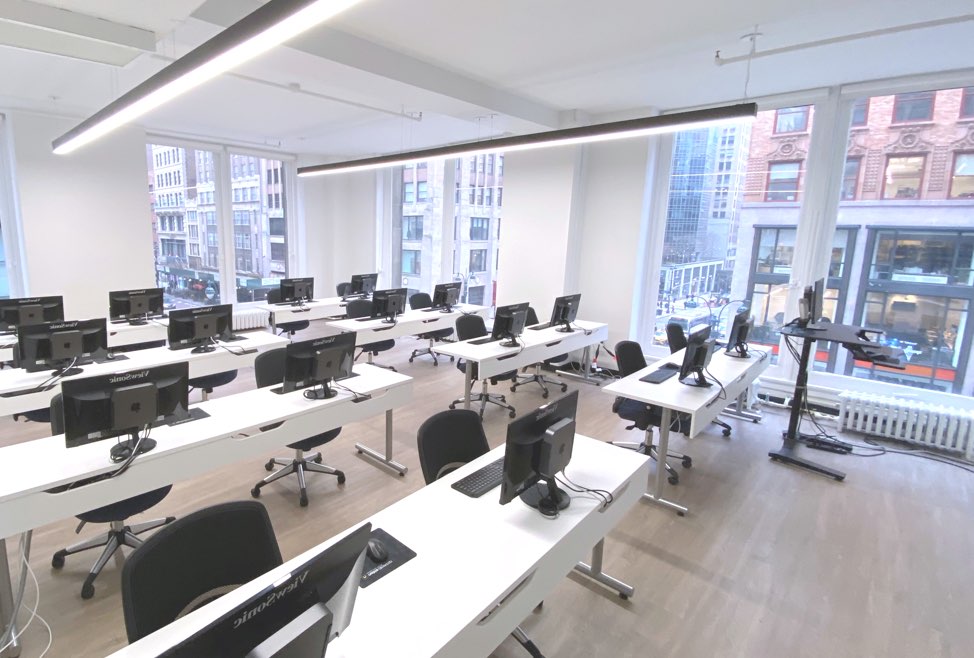 Compare Microsoft Master Certification Program with Access to Similar Courses
Select up to two courses and tap Compare Courses to view a side-by-side comparison of Microsoft Master Certification Program with Access with your selected courses.