Intermediate AutoCAD Classes in New York
Gain mastery in positioning, annotation styles, and layout techniques in Intermediate AutoCAD. First, you'll learn some tips for working more efficiently within the program, including creating a custom workspace. Next, you'll explore productivity tools, parametric drawing, and working with blocks. Finally, you'll work on drawing projects, including a title block, office tower, and lubrication system.
Learn By Doing in Intermediate AutoCAD
Our proprietary training approach includes a three-step approach to teaching new concepts—explain, demonstrate, and practice. The instructor's computer is linked to a projector to explain concepts and demonstrate examples while teaching. Following each topic, students will work on practice activities using a computer and software provided in our training center.
Beginner, Intermediate, and Advanced AutoCAD classes in NYC
In addition to Beginner AutoCAD Classes, Intermediate, and Advanced AutoCAD courses, we also offer an AutoCAD 3D modeling course.
Free Retake
Take your Intermediate AutoCAD course again within six months, free of charge.
This course has a prerequisite
Attendees should possess a basic understanding of AutoCAD equivalent to our Beginner AutoCAD course.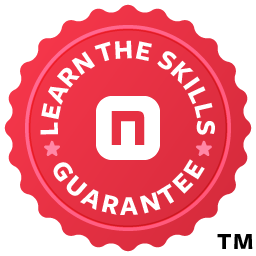 Learn the Skills Guarantee™
Hands-on, personalized training

Learn with real-world projects

Cutting edge curriculum

Step-by-step instruction to boost retention

Learn from industry experts

Gain industry knowledge from professionals

Free retake

Retake the course for free within one year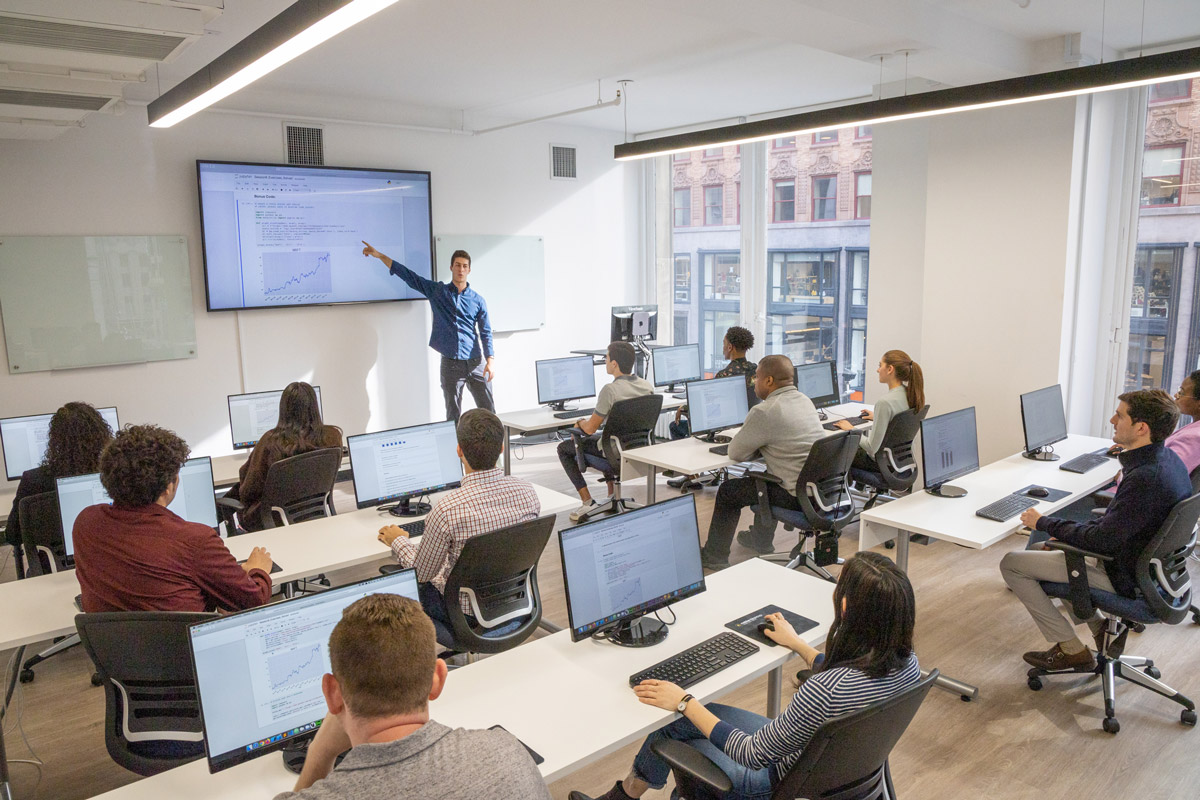 The Career Centers instructors are highly skilled communicators who really know their craft. They are wonderful about explaining and re-explaining when necessary and I never felt rushed or foolish for asking a question.
—Diane Speros
Earn a Certificate of Completion
Upon completion of this course, you'll recieve an official certificate testifying to your mastery of the curriculum. We'll send you a link where you can download your certificate, share it online with your friends, post it to your professional network on LinkedIn, and view all your earned certificates. Congratulations on your achievement!
What You'll Learn
Learn advanced layer techniques, working with tracking points and construction lines
Create, edit and export blocks, and create tool palettes for storing and inserting blocks
Customize layers in layout viewports for sheets
Advanced Interface techniques
Work with External References
Create Data Tables
Course Syllabus
Download Syllabus PDF
Chapter 1: Working Effectively with AutoCAD
1.1 Creating a Custom Workspace
1.2 Using the Keyboard Effectively
1.3 Object Creation, Selection, and Visibility
1.4 Working in Multiple Drawings
1.5 Copying and Pasting Between Drawings
1.6 Using Grips Effectively
1.7 Additional Layer Tools
Chapter 2: Accurate Positioning
2.1 Coordinate Entry
2.2 Locating Points with Tracking
2.3 Construction Lines
2.4 Placing Reference Points
Chapter 3: Projects - Productivity Tools
3.1 Schematic Project - Purifier Unit
3.2 Mechanical Project - 2 Views
3.3 Architectural/Civil Project - Formal Garden
3.4 Mechanical Project - Cover Plate
3.5 Architectural Project - Addition
3.6 Mechanical Project - Block
3.7 Mechanical Project - Plate
Chapter 4: Parametric Drawing
4.1 Working with Constraints
4.2 Geometric Constraints
4.3 Dimensional Constraints
Chapter 5: Working with Blocks
5.1 Creating Blocks
5.2 Editing Blocks
5.3 Removing Unused Elements
5.4 Adding Blocks to Tool Palettes
5.5 Modifying Tool Properties in Tool Palettes
Chapter 6: Projects - Creating and Organizing Blocks
6.1 Mechanical Project - Control Panel
6.2 Architectural Project - Furniture Layout
6.3 Civil Project - Utility Layout
Chapter 7: Creating Templates
7.1 Why Use Templates?
7.2 Controlling Units Display
7.3 Creating New Layers
7.4 Adding Standard Layouts to Templates
7.5 Saving Templates
Chapter 8: Advanced Layouts
8.1 Creating and Using Named Views
8.2 Advanced Viewport Options
8.3 Layer Overrides in Viewports
8.4 Additional Annotative Scale Features
Chapter 9: Annotation Styles
9.1 Creating Text Styles
9.2 Creating Dimension Styles
9.3 Creating Multileader Styles
Chapter 10: Projects - Drawing Setup and Utilities
10.1 Interiors Project
10.2 Mechanical/Schematic Project
10.3 Civil/Map Project
10.4 Mechanical Project - Dimension Styles
Chapter 11: External References
11.1 Attaching External References
11.2 Modifying External References
11.3 Xref Specific Information
Chapter 12: Projects - Drawing
12.1 D-sized Title Block (36x24)
12.2 Mechanical Project - Drill Press Base
12.3 Architectural Project - Office Tower
12.4 P&ID Project - Oil Lubrication System
12.5 Civil Project - Warehouse Site
Appendix A: Optional Topics
A.1 Using QuickCalc
A.2 Additional Zoom Commands
A.3 Additional Text Tools
A.4 Additional Dimensioning Tools
A.5 Creating Boundaries and Regions
A.6 Modifying Length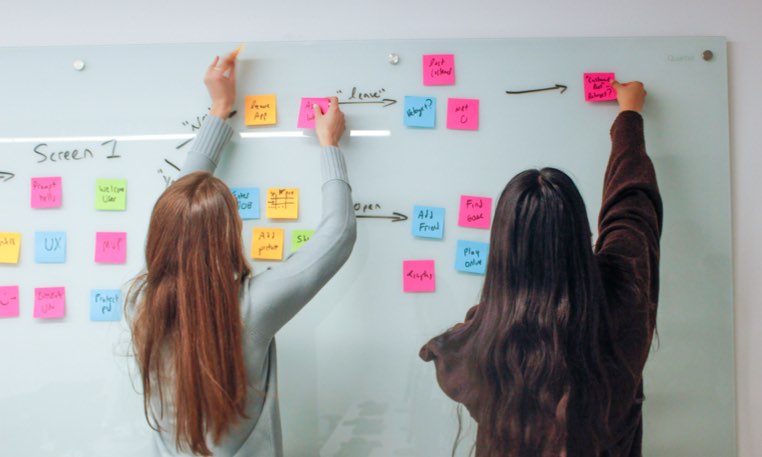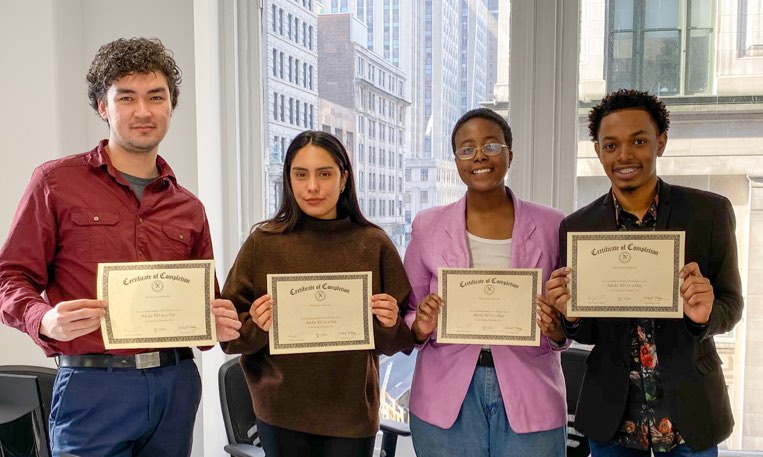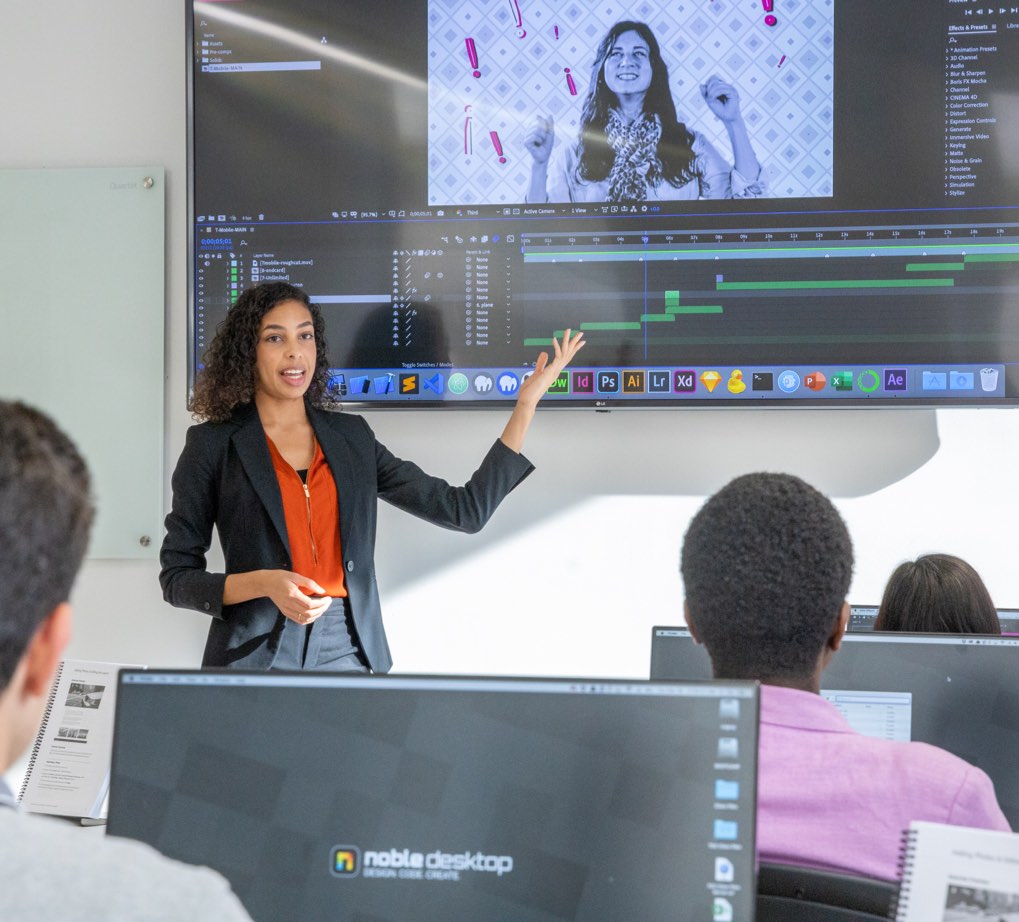 Schedule & Enrollment: Intermediate AutoCAD
$449
16 Hours
Free retake
Setup assistance
Expert instructors
Small classes
Course times are listed in Eastern Time.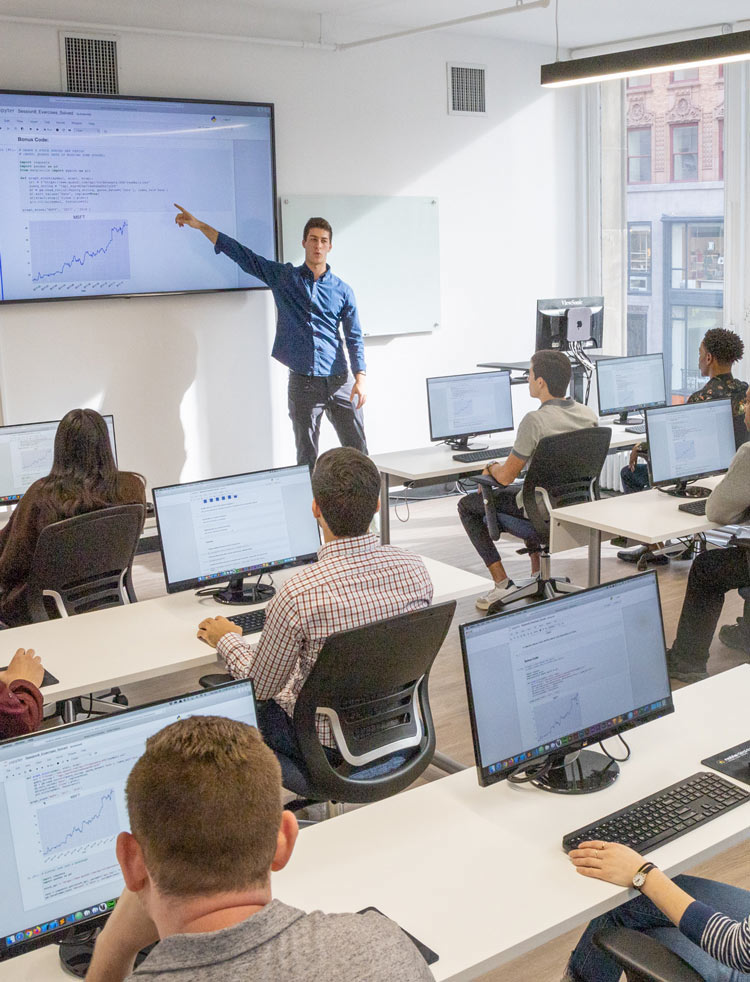 This Course is Available in NYC or Live Online
On Campus in NYC
185 Madison Avenue, NYC
In-person training happens at our campus in NYC where you'll get face-to-face interaction with instructors and direct collaboration with other students. Courses are hands-on with all the necessary computers and software provided to you in class.
Classes are interactive and led by an experienced instructor who is in the classroom with you.
Each attendee will be set up on a computer (your choice of Mac or PC) with all the necessary software.
Retake the course for free (in-person or live online) within one year.
Live Online
Live online training happens through Zoom during the same time as the in-person class and gets you the same interactivity and access to the instructor as in-person students. There are no extra fees and we'll work with you to ensure your remote setup is perfect.
Classes are activity-based and taught in real-time by an experienced instructor.
You can hear the instruction, ask questions, and share your screen—all in 

real-time

.
Retake the course for free (in-person or live online) within one year.
Testimonials for Live Online Training
"Overall experience on Zoom was maybe even better than in IRL classroom because the instruction takes place right on your own screen, with less distraction. Great overall experience."
"Given the fact that we had to do this entire class remotely due to Covid-19, I didn't have very high expectations it would run so smoothly. However, I don't think it could've gone any better. Not only do I feel very comfortable with the program now, but I'm actually excited to use it!"
"This was the first online class I've taken with ND and it was a great experience. Looking forward to the other classes I've signed up for!"
Frequently Asked Questions
Does this course require any prior knowledge or experience?

Attendees should possess a basic understanding of AutoCAD equivalent to our Beginner AutoCAD course.

Do you offer any discounts for this course?

Discounts

We don't currently offer discounts as we do our best to affordably prices our courses.

Take this course as part of a certificate program and save:

Price: $949 |

Hours: 40 Hours

Are there any additional fees or expenses?

There are no extra fees or taxes for our courses. The price you see on this page is the maximum you'll pay us.

However, if you plan to take the course live online, you may need to obtain required software. We'll help you get set up with a free trial of paid software prior to the class. Most of our coding classes utilize freely-available open-source software. For most of our design and motion graphics courses, we will help you get set up with a free trial of Adobe Creative Cloud. If you attend the course in-person, we will have a computer already set up for you with all of the required software for no additional cost.

Do you offer payment plans or student financing for this course?

This course does not qualify for payments plans or student financing. See our Payment Plan FAQ to find related programs that qualify.

Can I take this course online (remote learning)?

You may attend this training virtually (online) at the scheduled time the course is offered (New York, Eastern Time).

How does attending "live online" work?

Students can attend this training remotely through screen sharing software (we use Zoom).
Participants can hear the instruction, ask questions, and even share their screen with the instructor.
For audio you can use your computer's microphone/speakers or call a phone number that we'll provide.
Classes are activity-based and taught by a live instructor, so we strongly encourage students who are local to the area to attend in person!
You will need your own computer and copy of any required software. If you don't have the software, you can usually do a free trial or purchase your own license. If you need assistance, contact us at nyc@careercenters.com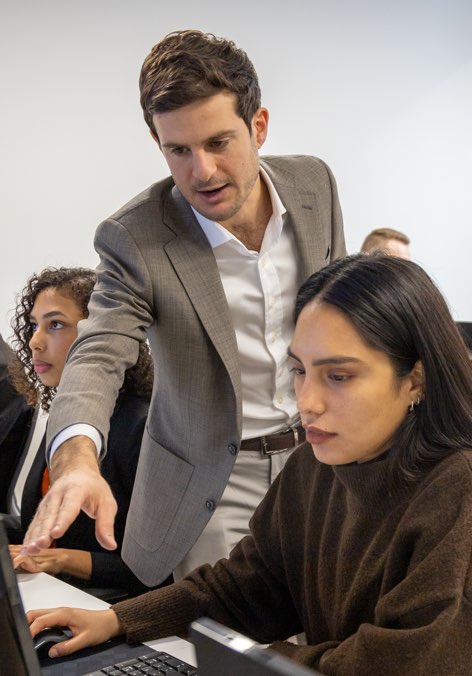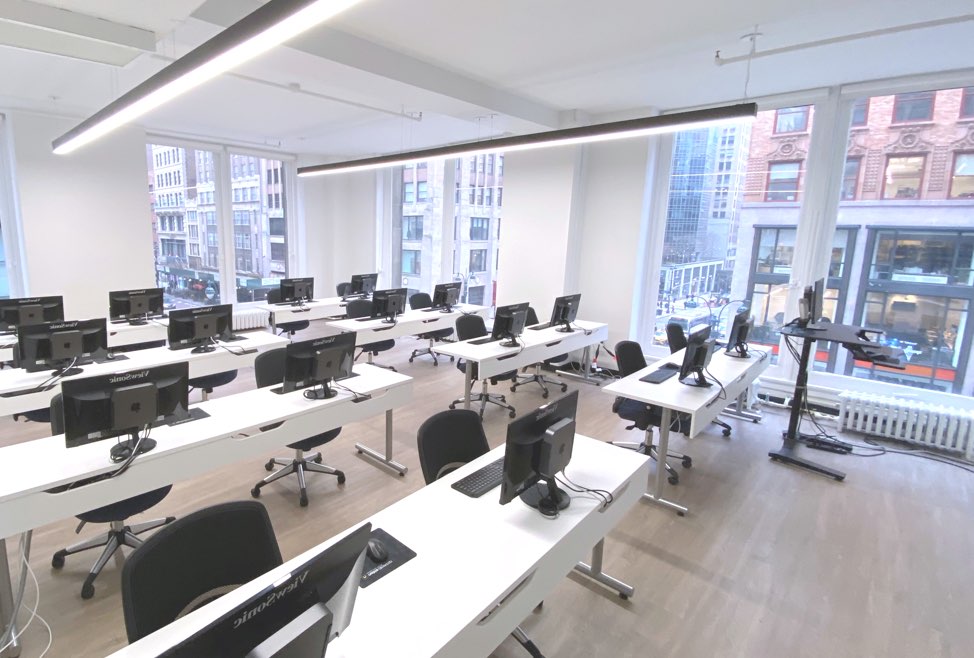 Compare Intermediate AutoCAD to Similar Courses
Select up to two courses and tap Compare Courses to view a side-by-side comparison of Intermediate AutoCAD with your selected courses.